Magento Go Shutting Down, Migrate Magento With Us Now!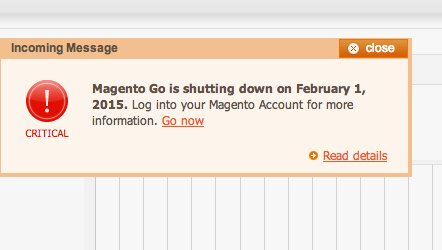 Magento Go store owners were served up a surprise today when they logged into their stores. All Magento Go
accounts will be closed definitively as of 1 February 2015. eBay, Inc, the parent company of both platforms is recommending merchants either move their stores to Magento Community Edition or Magento Enterprise
While the meaning of the message to their merchants is clear, the next question is, "what now?" Obviously, you have two choices: migrate your store or shut it down.
Here at MX Signs and Designs we have a huge amount of experience migrating websites from most e-commerce platforms to Magento Community Edition (Magento CE).
If you are a regular sized merchant running even a reasonable sized website Magento Enterprise edition will most likely be out of your budget so that leaves the cheaper Magento CE.
Although not backed by the guys at Magento (ebay) the nice thing about Magento CE is you can customize just about every aspect of the user experience and pick who you want and need to develop it further.  Magento CE, on the other hand, is built to be extended it is a very scalable cart and we have built and added extension that can do just about anything you need it to.
What is the difference in cost? In our experience, Magento CE can be inexpensive or very expensive. The more you customize it, the more expensive it can be.
How much does migration to Magento CE cost?
Well this is very much dependant on a few factors
You will need hosting, we would always recommend putting your magento CE store on a VPS, Hybrid or Dedicated Server as a minimum. Do not go for budget hosting you'll have little control and regret it later when you need to move servers etc and incur more costs. We would recommend a minimum 2 cores and 2GB of ram. With us this will cost you just £29.99 per month.
Installation and Set-up of your Magento CE store.  With us this is dependant on the spec of the hardware you are using and control panel and if it is hosted with us but this starts at just £99.00+vat
Static Pages If you have a lot of static pages or design customizations, you will need to migrate these.
If you have hosted, downloadable content, you will need to move that, too.
If your design is simple and you are willing to work with one of the 1000's of available magento themes to update your design, a typical site would cost approx £150. For pages with a lot of HTML formatting, tables or Javascript functionality, you may need more advanced development, but, you can probably complete this for under £700.
Migrating the information to Magento CE?
If you are moving from Magento Go, the cost of moving your data will be relatively small. The tables and import/export facilities are similar enough for us to complete this for you from start to finish within a couple of days. If your store is a bit more advanced and we are moving grouped products and/or bundled products, they will need to be set up manually on Magento CE before the migration so could take a bit more work.
I would always recommend giving us a few more details and letting us quote specifically to your requirements. To discuss your migration plans, please contact us here.